Skip Navigation
Website Accessibility
BLTA2 - Altair 2 - Baby Lock
Working as both an embroidery and a sewing machine, Altair 2 is packed with power and technology allowing your creative side to take control. With IQ Technology®, you can seamlessly transfer images to your machine from your smart device using the IQ Intuition Positioning® App for perfect design placement in the hoop or design creation in IQ Designer.
The Baby Lock Altair 2 machine features include:
Hands-free knee lift
Touch pen (stylus)
14 snap-on presser feet
2 thread spool stand for larger cones
Straight stitch needle plate
Alternate bobbin case for use with prewound bobbins
Bobbin center pin
Bobbins (10)
Embroidery positioning stickers (Sheets of 64)
Lens calibration sheet for use with the positioning app
Presser foot adaptor
Twin needle
Needle set
Embroidery needle plate cover
Advanced multi-function foot control
Bobbin covers: cord guide, plain, and seam guide marks
Chalk pencil
IQ Intuition Positioning® embroidery hoops and grids

9.5" x 14" (240mm x 360mm)
9.5" x 9.5" (240mm x 240mm)
5" x 7" (130mm x 180mm)
4" x 4" (100mm x 100mm)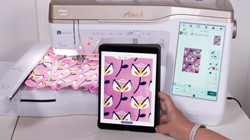 IQ INTUITION POSITIONING® APP
Use this positioning app to take a photo of your fabric in a special hoop and wirelessly transfer it to your machine. The image will display onscreen in high resolution in lifelike color, allowing you to perfectly position your design exactly where you want it, how you want it, every time.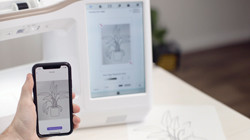 IQ DESIGNER
Create your own designs with ease! You can draw on the screen, scan your favorite artwork, upload an existing file using a USB drive, or wirelessly send artwork to your machine. Whatever your preference, your art instantly converts for embroidery!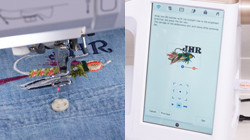 2-POINT POSITIONING
Use the 2-point positioning function, with needle beam, to preview the position of your embroidery design. Then, adjust the position and angle for precise placement. Your embroidery will be perfectly placed every time.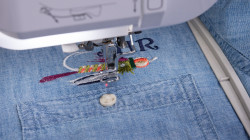 NEEDLE BEAM
Know exactly where your needle will drop every time with a brilliant LED pointer on the included embroidery foot.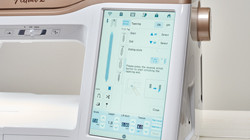 STITCH TAPERING
Match your project's sharp angles or create mitered corners with Altair 2's Stitch Tapering. With 12 angle settings, three ending methods, and 20 decorative stitches, you can customize a variety of sewing projects.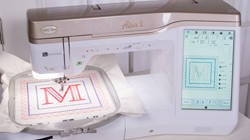 QUILTING AROUND AN EMBROIDERY PATTERN
Add stippling, echo quilting, or any of the 48 Decorative Fill patterns from IQ Designer around a selected design. Line spacing, distance, and frame size are all easily adjustable.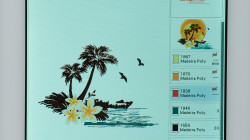 DESELECT REGION
Deselect regions of a design to preview and stitch with fewer colors.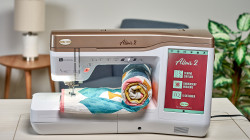 LARGE 11.25" WORKSPACE
With a generous 11.25" workspace to the right of the needle, Altair 2 gives you ample room to work.
FILL COUCHING ALPHABET
Stitch dimensional couched letters, characters, and designs.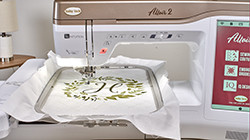 9.5" X 14" EMBROIDERY FIELD
Stitch bigger embroidery designs with less re-hooping with a large embroidery field.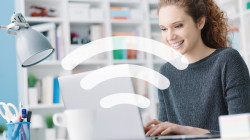 WI-FI ENABLED
Wi-Fi enabled for optional download of update files, apps, and design transfer with Design Database Transfer or Palette 11 (optional purchase).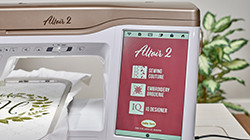 10.1" LCD SCREEN
Gain control over every aspect of your stitches, embroidery designs, placement, colors, and more on a large touchscreen. Comparable to many popular tablets, the touchscreen features large, clear buttons and vivid colors.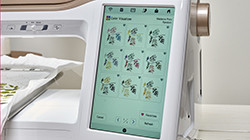 COLOR VISUALIZER
Choose from random, vivid, gradient, and soft colors, and watch your design transform in an array of attractive color combinations. Tag your favorite combinations, then select your favorite from the finalists.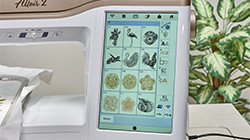 534 BUILT-IN EMBROIDERY DESIGNS
You'll enjoy embroidery designs galore with Altair 2's abundant selection of built-in designs, which include 200 exclusive designs from Baby Lock! The design library features large thumbnail images to conveniently choose the perfect embroidery design.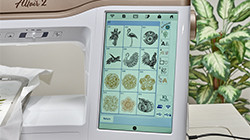 774 BUILT-IN STITCHES
Altair 2 is loaded with stitches, giving you a wide assortment of options for every project. You can combine them for countless stitch combinations and save them in memory to retrieve at any time.
QUICK-SET™ DROP-IN BOBBIN
Simply drop your bobbin in the machine, pull your threads through the slot, and let Altair 2 do the rest.