The Baby Lock Capella single-needle, free-arm embroidery machine is ideal for your small embroidery business. Its crosshair positioning laser allows for perfect embroidery design placement, and the free-arm also provides ease and effectiveness when embroidering in tight areas such as inside pockets and sleeves. It can even embroider on stuffed animals, tote bags, and hats!
The Baby Lock
Touch pen (stylus)
USB cable
Accessory case
Spool
Prewound bobbins
Spool caps
Metal bobbins
Embroidery frame holder A
Embroidery frame holder B
Embroidery hoops:

7-7/8" x 11-3/4" (200mm x 300mm)
4" x 4" (100mm x 100mm)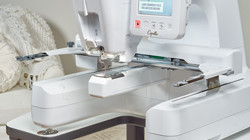 SINGLE-NEEDLE FREE-ARM EMBROIDERY
With its single needle and free arm, the Capella is engineered to embroider an array of designs in hard-to-reach areas such as inside pockets, hats, tote bags, and more.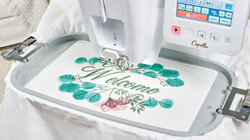 7-7/8" X 11-3/4" EMBROIDERY FIELD
The Capella machine gives you 7-7/8" x 11-3/4" of generous space for your embroidering needs.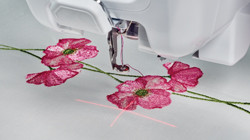 EMBROIDERY CROSSHAIR POSITIONING LASER
Use the crosshair positioning laser to preview the layout of your embroidery design; then adjust the position and angle for precise alignment.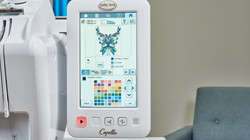 TRUVIEW™ DESIGNER
This high-definition TruView™ LCD color touchscreen brings your embroidery designs to life. It displays more than 260,000 colors, providing a bold, vivid image to help you edit and perfect each design.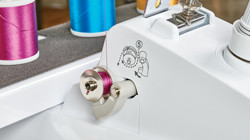 QUICK-SET, BUILT-IN BOBBIN WINDER
The Capella bobbin system includes an automatic bobbin winder with its own motor. The winder seat holds the thread in place and stops automatically when the bobbin is full.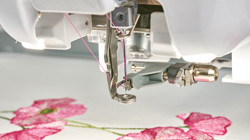 AUTOMATIC NEEDLE THREADER
Stitch with worry-free threading with the automatic needle threader. It threads your needle for you!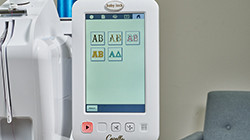 38 BUILT-IN FONTS
38 built-in, editable fonts to create distinct projects. Font designs include large floral alphabet, Greek letters, large applique? alphabet, and a Baby Lock exclusive font.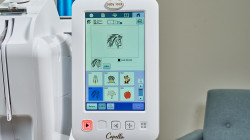 175 BUILT-IN DESIGNS
You'll always have something to embroider with Capella's huge selection of built-in designs that includes XX exclusive designs from Baby Lock. The design library features large thumbnails to make finding the right match even easier.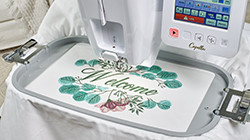 EMBROIDER AT 1,000 STICHES PER MINUTE
The Capella stitches up to 1,000 stitches per minute. Embrace larger, multicolored designs and watch them stitched in no time!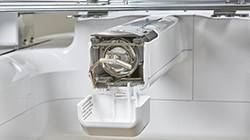 CONVENIENT BOBBIN SYSTEM
Never remove your embroidery hoop again! This front-loading bobbin system with a vertical hook makes bobbin changes easy and quick.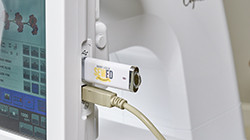 USB FLASH DRIVES (1 TYPE A, 1 TYPE B)
Use USB connectivity to quickly import designs to your machine from a computer, flash drive, or CD-ROM. The Capella USB flash drives support multiple design software formats.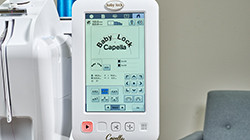 MULTI-LINE TEXT AND JUSTIFICATION
Create multiple lines of text quickly and easily without the need for constant rehooping. You also can center or justify your text alignment to precisely achieve the look you desire.